Russia, Moscow and Portland, Oregon, USA: 27 November 2017 – IntelliCAD Technology Consortium (ITC) held its conference November 6-8 in Auckland, New Zealand, attended by C3D Labs. The IntelliCAD World Conference brings representatives from member companies that develop engineering software based on the IntelliCAD platform.
The IntelliCAD development platform available for ITC members
C3D Labs CEO Oleg Zykov and lead developer Alexander Spivakov presented the C3D portfolio to the conference, describing its features and licensing terms. Consortium members showed their interest in C3D's software components, particularly the C3D Modeler for Teigha. While IntelliCAD uses Teigha Platform from the Open Design Alliance, the built-in ODA Modeler cannot provide all functions necessary for 3D modeling.
Also of interest to ITC members was the C3D Solver for performing 2D and 3D parametric constraints, and the C3D Converter for file translation. These components promise to improve software products developed and sold by ITC members.
Oleg Zykov presenting C3D Labs at IntelliCAD World Conference 2017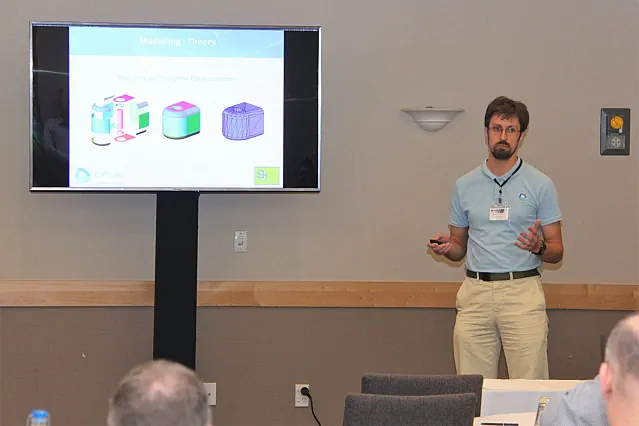 Alexander Spivakov reporting on C3D Toolkit before an audience
At the conference, ITC and C3D Labs signed an evaluation agreement for the C3D Toolkit. Following testing, a decision will be made whether to use C3D components in the IntelliCAD product provided by ITC and by individual members. ITC develops the base IntelliCAD program, which members then enhance and promote in geographic and vertical markets.
C3D Labs is grateful to David Lorenzo (ITC) for the invitation to participate in the IntelliCAD World Conference 2017, as well as to Mark Taylor (FrameCAD) for the warm welcome to New Zealand.
About C3D Labs
C3D Labs specializes in the technology-intensive market of 3D SDK components. The company develops and markets C3D Toolkit, which is used for constructing and editing 3D models. Computer-aided design systems are the most widely known software in which C3D Toolkit is typically used. As a software developer's tool, it is today the only modeling kit that incorporates all four modules critical to CAD: 2D/3D modeling, 2D/3D constraint solving, 3D visualization, and file conversion. In 2013, C3D Labs became a resident of Skolkovo, Russia's state development office park.
About IntelliCAD
The IntelliCAD Technology Consortium is an independent, non-profit organization funded and directed by its members specifically for the development of the IntelliCAD technology. The IntelliCAD Technology Consortium licenses the IntelliCAD technology to its commercial members, who in turn market and sell applications based on IntelliCAD to their end users. Commercial members have access to the IntelliCAD source code, documentation, developer support, and more. The ITC is also a founding member of the Open Design Alliance, thereby contributing to interoperability in the engineering industry.
IntelliCAD is registered with the U.S. Patent and Trademark Office by The IntelliCAD Technology Consortium.