Moscow and Skolkovo, Russia: 2 November 2017 – C3D Labs is pleased to announce that the Skolkovo Institute of Science and Technology (Skoltech) has licensed its C3D Toolkit. Skoltech made the decision following a detailed evaluation of software components and their ability to construct 3D models, solve 2D and 3D constraints, convert CAD data between different formats, and generate renderings of 3D scenes. Skoltech will use the toolkit to develop engineering software.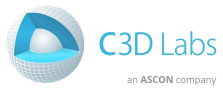 The agreement between C3D Labs and Skoltech was initiated three years ago when IT company's software was presented at a workshop on new production technologies organized by Skoltech and the Massachusetts Institute of Technology. Following this, C3D Labs representatives were invited to Skoltech's Concurrent Engineering Design Laboratory (CEDL) to participate in a seminar on 3D modeling technologies. There, professors and students learned about the C3D Education Program and discussed success stories of using the C3D Toolkit at other universities.
As a result, a group of Skoltech students were tasked with carrying out the Concurrent Engineering Data Exchange project (CEDESK). Dr. Clement Fortin, dean of Faculty and Postdoctoral Affairs at Skoltech and a member of Canadian Academy of Engineering, lead the group. Following his recommendation, the CEDESK team evaluated 3D components from C3D Labs, and the university subsequently licensed the software to allow students to solve research problems. At the same time, an additional agreement was signed delegating Masters student Nikita Letov to a two-month internship at C3D Labs' development center in Kolomna.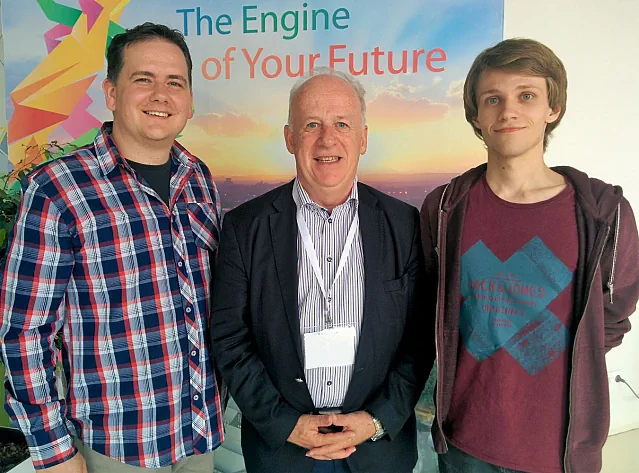 Clément Fortin with the CEDESK researches Nikita Letov and Dominik Knoll
Evgeny Selivanov, head of Industrial Technologies and Industrial Internet of Things at Skolkovo Foundation:
How the C3D Toolkit is Used by CEDESK
The primary task of the CEDESK group is come up with tools and processes for Industry 4.0, the fourth industrial revolution. The group is working at improving collaboration specifically in the aerospace industry. Students in the Masters and Ph.D. programs are looking at integrating simultaneous design methods of large-scale IT systems using product lifecycle management and enterprise resource planning. At the same time, they are taking into account dedicated software already in use by enterprises, established workflow features, and production participants' roles and responsibilities.
As a way to acquire the skills and knowledge needed to develop applications based on the C3D Toolkit, the Skoltech research team sent one CEDESK member to C3D Labs for a summer internship, Nikita Letov. The team asked him to work on a project that would combine the capabilities of the various software components. As a result, he developed a 3D program that automates the design of rocket nose cones through the cone's parameters via a simple interface.
Student Work Experience
Nikita Letov, a Masters student at Skoltech, reports on his experience:
Software application for rocket nose cone design developed by Nikita Letov, a student at Skoltech
According to the students' concept, CEDESK software will allow to developing interrelated engineering systems and products in the most effective way. The researchers at Skoltech are planning in due course to commercialize their solution. They mark potential customers such as Roskosmos, NASA, and SpaceX, which may be interested in conceptual product design.
Dr. Eduard Maksimenko, head of Application Software department at C3D Labs, describes the student intern experience:
About C3D Labs
C3D Labs specializes in the technology-intensive market of PLM components. The company develops and markets the C3D Toolkit used for constructing and editing 3D models. Computer-aided design systems are the most widely known software in which C3D Toolkit is typically used. As a software developer's tool, it is today the only modeling kit that incorporates all four modules critical to CAD: 2D/3D modeling, 2D/3D constraint solving, 3D visualization, and file conversion. In 2013, C3D Labs became a resident of Skolkovo, Russia's state development office park.
About Skoltech
The Skolkovo Institute of Science and Technology (Skoltech) is a private graduate research university in Skolkovo, a suburb of Moscow, Russia. Established in 2011 in collaboration with Massachusetts Institute of Technology, Skoltech educates leaders in global innovation, advanced scientific knowledge, and the fostering new technologies that address critical issues facing Russia and the world. Applying international research and education models, the university integrates the best Russian scientific traditions with twenty-first century entrepreneurship and innovation.
The Center for Entrepreneurship and Innovation within Skoltech provides education, research, and administrative functions that support the practice of entrepreneurship and innovation, spanning across and coupled to degree-granting programs.
About Skolkovo Foundation
Skolkovo Foundation is the principal agency responsible for operating the Russian Skolkovo Innovation Center, a scientific and technological center for the development and commercialization of advanced technology. The foundation has identified five key areas for potential growth: energy efficiency; strategic computer technologies; biomedicine; nuclear technology; and space technology. The IT cluster, of which C3D Labs is a part, endeavors to make breakthrough developments in computer hardware and software, striving for eventual commercialization of the innovations.
Skolkovo Innovation Center is the catalyst for Russia's innovation-based economy, creating an international ecosystem of entrepreneurship: 1,700 high-tech startups, a Technopark, the Skolkovo Institute of Science and Technology (Skoltech) and Skolkovo city located near Moscow. Skolkovo startups have already made $2 billion in revenues, attracted $500 million in investment and created 22,100 jobs, filing 1,100 patent applications along the way. By 2020 over 2 million square meters of residential and office space will be built in Skolkovo with 35,000 people working daily in the Innovation Center. For more information: https://sk.ru/