St Petersburg and Novosibirsk, Russia: 2 August 2017 – C3D Labs customer Renga Software and authorized C3D partner LEDAS are signed a long-term agreement in which LEDAS will develop some advanced modules and functions for the Renga BIM design software for architects and engineers.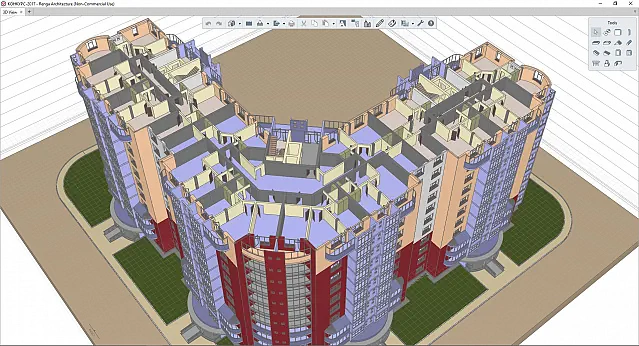 Figure 1. 3D model of building prepared with the new Renga Architecture software
The LEDAS team of programmers has begun working on a system of user-defined parametric contours and two-dimensional sections for Renga. These will propel designers to engineer many new kinds of parametric BIM objects, such as unique-looking columns, beams, and openings. Editing the parametric cross-sections will be done with geometric constraints, an area in which LEDAS is a world-renowned expert. The BIM parametrization will employ functions from the C3D Solver parametric kernel.
About C3D Labs
C3D Labs specializes in the technology-intensive market of PLM components. The company develops and markets C3D Toolkit, that is used for constructing and editing 3D models. Computer aided design systems are the most widely known software in which C3D is typically used. As the software developer's tool, C3D is today the only modeling kit that incorporates all four modules critical to CAD: 2D/3D modeling, 2D/3D constraint solving, 3D visualization, and file conversion. In 2013, C3D Labs became a resident of Skolkovo, Russia's state development office park.
About Renga Software
Renga Software is a joint venture formed by two leaders of the Russian IT market, ASCON Group and 1C, to advance Renga as a new BIM system. ASCON Group is the largest vendor of engineering software in Russia, and its KOMPAS-3D is the most popular Russian mechanical CAD system. It also is an integrator of IT solutions for computer-aided design and production.
1C is the largest IT company in Russia, specializing in development, support, and distribution of computer software, and business and household databases.
About LEDAS
LEDAS has been operating in the global CAD market for nearly 20 years now, taking on ambitious R&D projects that employ its staff of especially qualified mathematicians and computer scientists. The company is best known for the constraint-based tools and component technologies it develops for the CAD, CAM, CAE, and PDM markets. LEDAS' success stories include significant projects for Dassault Systemes, Cimatron, and JETCAM. These and many other companies have put innovative products on the market using R&D services from LEDAS.
More information about LEDAS is available at ledas.com.
Press Contacts
C3D Labs
phone: +7 495 783 2560, ex. 2130
email: info@c3dlabs.com
web: c3dlabs.com
LEDAS
phone: +7 383 3356 504
fax: +7 383 3356 256
email: info@ledas.com
web: ledas.com
Renga Software
Phone: +7 812 703 1011
email: marketing@rengabim.com
web: rengabim.com