Altium LLC, a leading provider of software for the design of printed circuit boards (PCB), has launched Altium Designer 19 with brand new 3D modeling features based on C3D Toolkit components from C3D Labs. As one of the most widely used electronic design automation (EDA) systems, Altium Designer 19 benefits from fast, accurate geometric modeling powered by the C3D Modeler geometric kernel, the C3D Solver constraint solver, and the C3D Converter data exchange module.
Altium was the first to bring 3D modeling to PCB design, and now leads the way in modern electronics design. In its solutions, it combines traditionally separate approaches to electronic computer-aided design (ECAD) and mechanical (MCAD) to create a new way of doing product modeling.
C3D Toolkit delivers MCAD editing functions to the Multi-Board Design tools in Altium Designer 19. The new functions include support for rigid-flex PCB designs, ability to mate objects, and exporting models to STEP and Parasolid formats.
C3D Modeler handles rigid-flex PCB designs through its sheet metal modeling module. The multi-board assembly editor displays the PCB in its final, folded state, as defined in the PCB editor.
Support for rigid-flex PCB designs
C3D Solver uses its algorithms to mate objects based on chosen surface locations, manipulation of mates as a single object, and separating mates by a specific distance in the X, Y, or Z directions.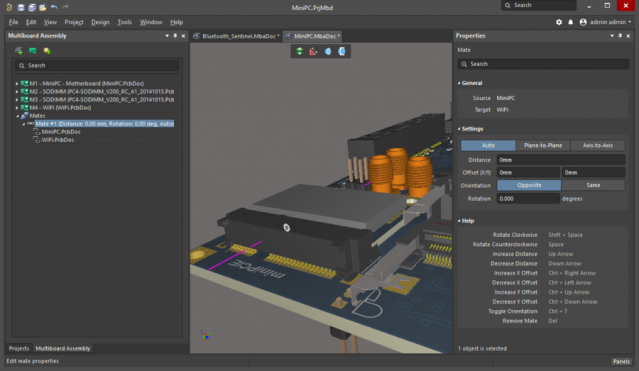 Working with mates
C3D Converter is responsible for data conversion to STEP and Parasolid X_T formats.
The three components from C3D Labs are also being used in developing Altium NEXUS, the company's new solution for agile enterprise PCB design.
Sergey Kostinsky, Chief Technology Officer at Altium:
Oleg Zykov, CEO of C3D Labs:
About Altium
Altium LLC is a multinational software corporation headquartered in San Diego, California focusing on electronics design systems for 3D PCB designs and embedded system development. Altium products are found everywhere, from world leading electronic design teams to the grassroots electronic design community.
With a unique range of technologies, Altium helps organizations and design communities to innovate, collaborate, and create connected products, while remaining on time and on budget. Products include ACTIVEBOM, ActiveRoute, Altium Designer, Altium 365, Altium Vault, Altium NEXUSTM, Autotrax, Camtastic, Ciiva, CIIVA SMARTPARTS, CircuitMaker, CircuitStudio, Codemaker, Common Parts Library, Draftsman, DXP, Easytrax, EE Concierge, NanoBoard, NATIVE 3D, OCTOMYZE, Octopart, P-CAD, PCBWORKS, PDN Analyzer, Protel, Situs, SmartParts, the TASKING range of embedded software compilers, and Upverter.
For more information, visit www.altium.com.