Moscow, Russia and San Diego, CA, USA: 20 December 2017 — Altium, one of the world's leading developers of software for computer-aided design of electronic components, has licensed modules from the C3D Toolkit to expand the 3D modeling functions of its flagship product, Altium Designer. Industry leaders, small and medium enterprises, as well as research laboratories and universities, use Altium software to design state-of-the-art electronic devices. More than 80,000 professionals around the world use Altium solutions.
Software Developers Increasingly Choosing C3D Toolkit
C3D Toolkit allows the development of software and applications of great complexity. The toolkit consists of four PLM components that meet fully the needs of engineering software developers. Specifically, C3D Modeler is the component for geometric modeling and calculations, C3D Solver for controlling 2D and 3D models through dimensions and constraints, C3D Vision for rendering visual scenes, and C3D Converter for reading and writing data in the most popular CAD exchange formats. The components can be used together or individually, depending on project parameters.
Altium Designer 18
A month ago, C3D Labs held a workshop dedicated for Altium developers at the C3D development center in Kolomna, where mathematicians from C3D Labs hosted experts from Altium to answer all their questions. The one-on-one workshop significantly strengthened the cooperation between the two tech leaders.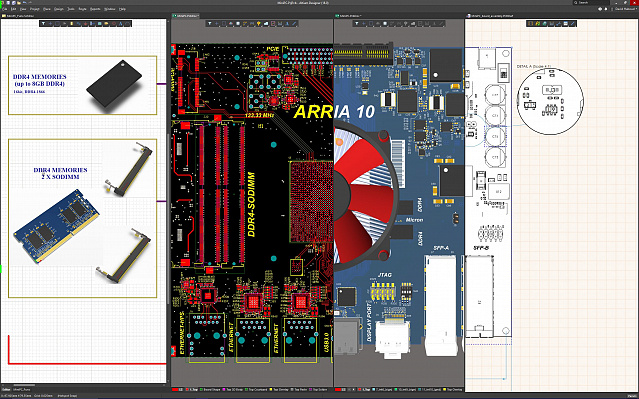 Printed Circuit Board Design and Manufacturing Process by Altium
During the evaluation period, Altium experts tested the C3D Modeler and the C3D Solver, and subsequently chose both products to embed in their PCB design software. Click here to learn more about C3D Labs solutions.
About C3D Labs
C3D Labs specializes in the technology-intensive market of PLM components. The company develops and markets C3D Toolkit, which is used for constructing and editing 3D models. Computer-aided design systems are the most widely known software in which C3D Toolkit is typically used. As a software developer's tool, it is today the only modeling kit that incorporates all four modules critical to CAD: 2D/3D modeling, 2D/3D constraint solving, 3D visualization, and file conversion. In 2013, C3D Labs became a resident of Skolkovo, Russia's state development office park.
About Altium
Altium LLC is a multinational software corporation headquartered in San Diego, California that focuses on electronics design systems for 3D PCB design and embedded system development. Altium products are found everywhere, from world leading electronic design teams to the grassroots electronic design community. With a unique range of technologies, Altium helps organizations and design communities to innovate, collaborate, and create connected products while remaining on-time and on-budget.
Founded in 1985, Altium has offices worldwide, with US locations in San Diego, Boston, and New York City; European locations in Karlsruhe, Amersfoort, Kiev, Munich, and Zug; and Asia Pacific locations in Shanghai, Tokyo, and Sydney.